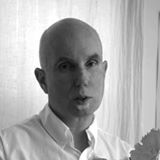 images
Richard Crandall MA, RSCT, PTP
Registered Craniosacral Therapist, Polarity Therapy Professional
Received my Biodynamic Craniosacral training 1250 Hours at the Wellness Institute of New York in 2001. Roger Gilchrist was my instructor and I assisted Roger in his Washington, DC Foundation Course (2003).
Received my holistic therapeutic bodywork training 880 hours at the Polarity Realization Institute. (Spa Tech new name of school)
I have received post graduate training by attending advanced classes with Roger Gilchrist and Franklin Sills.
Practice Philosophy: My approach in practicing energy therapy is to quiet my mind through meditation and allow stillness to inform and guide the healing session. If we are very quiet the healing forces work with us and our job as healers is to be a fulcrum for a unfolding process and be a witness to a force that is much greater than us bring healing to the loved one.
Hobbies: I love music, being out side and going for walks either in the country or at the beach. My family of origin lives mostly at the seacoast of New Hampshire and Connecticut. I have chosen not to have children, however I have six great nieces and two step children and have been living with their mom since 1998. I am interested in spiritual adventures, love to travel and feel very blessed. I am very grateful to be living one day at a time. Acceptance is the key.